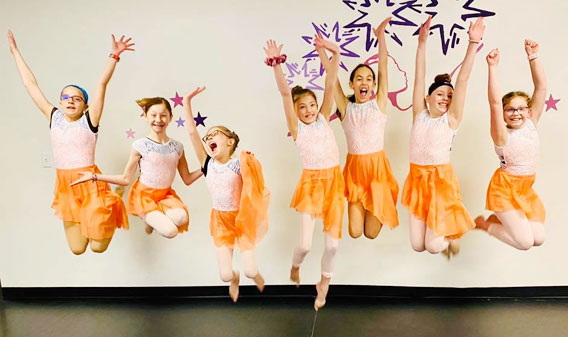 At Premier School of Dance, our faculty believes that dance training fosters valuable life skills such as respect, humility, responsibility to oneself and others, teamwork, goal-setting, creative expression, and personal achievement.
All our instructors have extensive qualifications in dance, with a full understanding of what is technically appropriate for every age level.

Karin Gritz
STUDIO OWNER & INSTRUCTOR
Karin Gritz has owned Premier School of Dance for 28 years, and has been teaching dance for over 35 years. Her early training began with Gwen Bowen School of Dance in south Denver, and progressed to teaching at age 18. She has taught through many outlets including: YWCA, Pueblo Ballet, Rancho Simi Valley Recreation Department and at local studios in Colorado.
Karin is exceptional in working with the younger kids and keeping the tradition of dance alive! Her objective with the studio is to reinforce arts education by providing an outlet for all families to afford dance training. She believes that dance teaches many life skills besides technique and the artistry of dance.

Alexandra Fields
CO-DIRECTOR & INSTRUCTOR
Alexandra Fields graduated with honors from the University of Arizona where she majored in Dance. She received her training at Premier, with additional summer dance programs throughout the country, including Virginia School of the Arts, Boulder Jazz Dance Workshop, and Hubbard Street Dance Chicago. Alexandra directs the Competition Team at Premier and helps manage Premier. An exceptional choreographer, Alexandra has won several awards for her choreography at the Regional and National level. Alexandra has two young sons and enjoys all of the outdoor adventures Colorado has to offer.

Marian Faustino
BALLET INSTRUCTOR
Marian Faustino is beginning her eighth year teaching Ballet at Premier. She received her classical Ballet training in the Philippines as a member of Ballet Manila, studying under visiting teachers from the Vaganova Ballet Academy. She has also been privileged to be a Philippine representative at several International Ballet competitions and awarded semi-finalist and finalist in Moscow and Nagoya. Moving to the States in 2011, she was a pioneering member of the contemporary Ballet Company, Wonderbound. Marian is currently a freelance dance artist and has performed with Denver Art Museum, Central City Opera, The Lyric Opera of Chicago and Malashock Dance San Diego.

Jamison Slater
INSTRUCTOR
Jamison Slater began her training in Medford, NJ. She then went to study on scholarship at Virginia School of the Arts. She attended many summer programs including Houston Ballet, Joffrey Ballet, Koresh, and Charleston Ballet. She has danced professionally with Charleston Ballet Theatre and Caribbean Cruise Lines. While living in Las Vegas Jamison performed in Jubilee!, Nathan Burton Comedy Magic Show, and the Sirens show at Treasure Island. Jamison has also performed as a back-up dancer for recording artist Kristine W. in Miami and Bruno Mars in Las Vegas. She is also a judge for National Dance Showcase, International Dance Alliance and Headliners. Jamison is looking forward to her third season at Premier.

Haley Nigro
INSTRUCTOR
Haley Nigro received her dance training at Premier before attending the University of Wyoming. With a BFA in Dance Science and a minor in Creative Writing, she currently is working on her Master's degree in English. During her college years she studied abroad in London and performed works by Darrell Grand Moultrie, José Limon, Tai Jimenez and Jarek Cemerek. She has experience teaching Jazz, Ballet, Pointe, Modern, Contemporary and Creative Movement to a wide variety of age groups.

Claire Kendall
INSTRUCTOR
Claire Kendall began her dance training in her hometown of Santa Fe, NM at the School of Aspen Santa Fe. She received her BFA in Dance Performance from SUNY Purchase College and attended high school at the University of North Carolina School of the Arts in Ballet Concentration. In the Fall of 2016, she studied abroad at the Korea National University of Art in Seoul, South Korea. As a professional dancer she has performed with several companies, and is currently a member of both Hannah Kahn Dance Company and T2 Dance Company. She is also the Artistic Director of her own company; Claire Kendall Creative Projects. She is excited to share her experiences and love for dance with the students at Premier!

Lisa Caldwell
INSTRUCTOR
Lisa Caldwell is our newest teacher at Premier! Lisa attended the University of Kansas and has a BA in Dance and a BS in Business Administration. She has spent the last few years in Chicago teaching and dancing professionally with Aerial Dance Chicago and Thodus Dance Chicago. Lisa is an experienced Ballet teacher with years of experience teaching all levels. She moved to Colorado to train with Frequent Flyers in Boulder and is happy to call Colorado her new home.