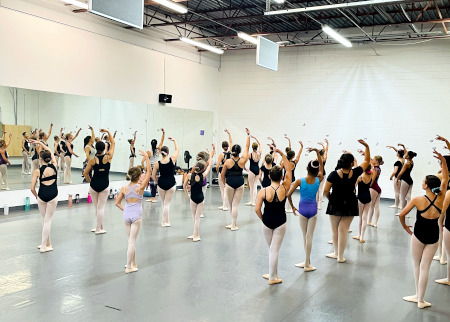 Registration can be done online or in person. Click here to register online. Premire does NOT charge a registration fee.
Your first month's tuition must be paid to secure your student's spot, however, credit cards are NOT charged at the time of online registration. Please give us 24 hours to post the tuition in your portal after you register. Once we post your tuition (based on your total hours) you will receive an email that the we posted your fees. You can then pay tuition online and save your dancer's spot. We ask that you pay tuition within 48 hours to securee your spot.
You can also calculate your tuition and pay upon enrollment.
Please enroll early if you have a specific time or class that works best for you! It's not unheard of for some classes fill in the first hour or two of enrollment being open. Please put yourself on any waitlists that are applicable as then we know we have interest to open additional classes.
If you accidently enrolled in the wrong level or class you will need to email or call us. You will not be able to delete an enrollment.
Attendance
Regular attendance is imperative, as absences and tardiness can hold back an entire class. If a dancer is more than 15 minutes late for class they will be asked to observe, and will not be allowed to participate (at the discretion of the teacher). This is for their safety. The progression of exercises are designed to warm up a dancer for more strenuous work. If a dancer misses that, their body can be prone to injury.
Dancers can make up a missed class. Check with your instructor or the front desk for the appropriate class to take. If your dancer is going to miss class, a phone call is appreciated. Credits are NOT given if a dancer misses class. A credit is given only when the studio has to cancel class due to weather or a teacher's absence. New this Year! Premier has always credited families for snow days (which is NOT standard practice for most studios). In order to make the process easier we will still issue a credit if the studio cancels class, but the credit will be a flat fee, regardless of how many classes you take. That credit will be $12.00.
When there is inclement weather, we do not follow any school district policies, as we have students in many school districts. The decision to cancel class due to bad weather depends on evening conditions and temperatures. The decision will be made by 3:00pm. We will post on the website, on Facebook, Instagram, or on the answering machine. Please check before driving to the studio. If conditions change during the evening hours we will notify parents as soon as possible. We no longer make personal phone calls for cancelations.
Premier has set parent watch days for each class throughout the year. We will set a schedule for Parent Watch in October and February/March and email out a schedule.
Below you will find the appropriate dancewear and shoes for each style of dance. Street clothes, gauchos, sweats, skorts, costumes, or baggy clothing should not be worn to any class. We also sell apparel, tights and a variety of shoes. Browse our menu of items we can order or size for you.
Creative Dance
• Girls - any color leotard and tights. Boys - sweat pants athletic/t-shirt.
• Girls - Pink Ballet shoes, Boys - Black Ballet shoes.
• Hair should be pulled back off the face.

Combo I or II
• Girls should wear any color leotard and tights, pink Ballet slippers, and black Tap shoes.
• Boys should wear sweat pants and a t-shirt, black Ballet and Tap shoes.
• Hair should be pulled back off the face.

Ballet

​

Females should wear Pink Ballet tights (over their feet) and a solid color leotard, pink Ballet shoes: Leather is preferred in Levels I, II and IIA. Canvas is preferred in Level III+. Teachers can decide if skirts are worn.
Males should wear black tights and black Ballet shoes with a snug white or black t-shirt.
Ballet students are expected to have their hair in a bun for every class.

Jazz
• Females should wear any color leotard and tan/black tights. Bootie shorts are allowed.
• Tan colored split-sole Jazz shoes.
• Males should wear black tights or dance pants, a snug white or black t-shirt, and black Jazz shoes.
• No socks are allowed.
• Hair should be pulled back off the face.

Lyrical & Modern
• Females should wear any color leotard, tights, bootie shorts and Lyrical shoes or barefoot.
• Males should wear black tights or dance pants, a snug white or black t-shirt, and Lyrical shoes or barefoot.
• No socks are allowed.
• Hair should be pulled back off the face.

Tap
• Students can wear any color leotard and tights, or dance pants and an athletic top.
• Black Tap shoes.
• Hair should be pulled back off the face.

Hip Hop
• Dance pants, hip hop pants, or leggings that cover the knees with a leotard or athletic shirt.
• Students can wear any type of Sneaker-style shoes. Shoes must be for class and not worn outside.
• Hair should be pulled back off the face.

Acrobat
• Biketard or leotard and footless or transition tights, bootie shorts.
• Barefoot
• Hair should be pulled back off the face.
• NO BAGGY CLOTHING